Top Home Builders
Myrtle Beach Area Builders
2010 Top Builders
2009 Top Builders
2008 Top Builders
NC Builders Outside of Myrtle Beach
SC Builders Outside of Myrtle Beach


Charleston, SC Top 10 Home Builders 2008
Charleston/Berkeley/Dorchester Counties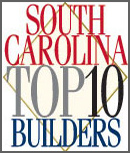 1. CENTEX HOMES
Now Merged with Pulte Homes
185 Fairchild Street, Suite 400
Charleston, SC 29402
(843) 740-7270
Centex Homes (now Pulte Homes), the largest single-family home-builder in the Charleston area, is also the largest builder in the United States. In August 2009, the Texas-based company merged with Pulte Homes, with corporate headquarters in Bloomfield Hills, Mich., thus creating the nation's largest and best-positioned home-building corporation.
One of the many benefits home-buyers can expect is the Centex Energy Advantage, which provides a home that is 90-percent more energy efficient than a typical 10-year-old home and 22-percent more efficient than a typical new home.
In Charleston, Berkeley and Dorchester counties, Centex Homes currently has eight neighborhoods for home-buyers to choose from, including Liberty Hall in Goose Creek, with prices starting at $99,990, and Shell Ring at St. Thomas Island, starting at $279,990.
2. RYLAND GROUP
Don McDonough, Division President
225 Seven Farms Drive
Charleston, SC 29492
(843) 375-5555

7. FIRST COAST HOMES
Katie Varin, Marketing Manager
116 Shadybrook Drive
Summerville, SC 29483
(843) 266-3404

3. KB HOME
Jeff Meyer, Division President
4401 Belle Oaks Road, Suite 280
North Charleston, SC 29405
(843) 576-6840
www.KBHome.com
8. HARBOR HOMES
Kim Finney, Director of Marketing
1954 Ashley River Road, Suite N
Charleston, SC 29407
(843) 769-6390

4. BEAZER HOMES
Frank Finlaw, Division President
7410 Northside Drive, Suite 208
North Charleston, SC 29420
(843) 572-3611

9. EASTWOOD HOMES
Jason Fabrizio, Division President
1042 Legrand Blvd., Suite 4
Charleston, SC 29406
(843) 388-8087

5. LENNAR CAROLINAS
Michael Bottoms, Division President
1941 Savage Road, Suite 100C
Charleston, SC 29407
(843) 388-8989

10. D.R. HORTON
Jay Henderson, City Manager
503 Wando Park Blvd., Suite 200
Mount Pleasant, SC 29464
(843) 284-5009

6. DEL WEBB
Jon Cherry, General Manager
138 King's Creek Drive
Bluffton, SC 29909
(843) 705-8700
www.DelWebb.com