Myrtle Beach Neighborhoods
Near Myrtle Beach
Near Charleston


Publish Your Own Magazine: View This Video

Gulfstream Cottages, Myrtle Beach SC: Vacation Home
Life in Simpsonville, South Carolina, has been good for Ken and Rosy Griffith, but new adventures await them at their new vacation home in Myrtle Beach.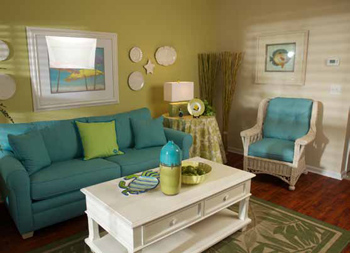 "We looked for six months prior to receiving an email advertisement about Gulfstream Cottages," Ken explained. "We had never heard of the new development, but, once we looked at Gulfstream Cottages, we were sold. We never looked at another property again."
Gulfstream Cottages, located just one block from the beach, was built by Flagship Construction.
"We were nervous because we had bad luck with a previous builder and didn't want to repeat that experience, but Flagship Construction was super. All of the guys were upstanding," said Ken.
Married for 14 years, the Griffiths met through work and maintained a long-distance relationship that eventually led to marriage.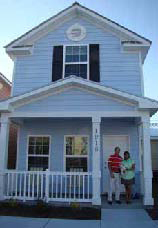 "Rosy is originally from Mexico, but I met her while she worked at the plant in South Padre Island, Texas," said Ken. "We do everything together. Now we anticipate our new vacation home will become our retirement home in a few years. We can't wait."
Rosy also was excited about their decision to buy a home built by Flagship Construction.
"The choice to buy a vacation home here was easy. It is so different from Mexico, Texas and Simpsonville. The town feels very safe, and it's actually quiet where we are. It's very relaxing and I feel at peace here."
Chispa (which means spark in Spanish), their 11-year-old Chihuahua, also has adapted to the beach lifestyle.
"We both agree that people in a resort area are happier because everyone is here to relax. They are more open and friendly, whether they are at the store or at the beach," said Rosy. "You meet people from all around the world. We met a couple from Germany and had dinner together. We had an interpreter and it was great."
"It's wonderful living here, and the size of our house for the price we paid was better than we thought we'd get," said Ken. "The layout of the community is great and there is relatively no maintenance because it's new construction. We are able to enjoy our property more because there isn't the worry that comes with an older home. I just can't say enough about Flagship Construction and our new home. The guys there are just great. It's thrilling just grabbing our keys and some clothes and we're on our way for a weekend getaway. We don't have to worry any more about checkin or checkout."
For more information, visit www.MyrtleBeachBuilders.com/OceansideCottages or email Publisher@CarolinaHomesAndInteriors.com.