Myrtle Beach Neighborhoods
Near Myrtle Beach
Near Charleston


Retirement Information For North Carolina
Myrtle Beach Million Dollar Homes
Rental Central - NC Long Term Rentals
Carolina Forest, Myrtle Beach Homes
Myrtle Beach
Luxury Homes

Carolina Forest Real Estate

Southgate Homes in Carolina Forest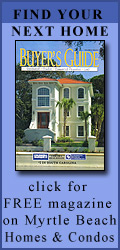 Carolina Forest, Myrtle Beach, SC
Feels Like Home
By Jerry C. Ausband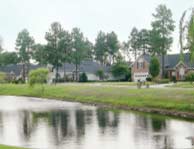 "At the north end is a retail center called Towne Centre. Carolina Forest may even build its own hospital to make it more self-contained."
Like the pitch, tar and turpentine that were once harvested from the multitude of pine trees as the major industry in Horry County, this new "educational glue" flows freely in this 9,000-acre community located between Myrtle Beach and Conway, S.C.
Carolina Forest points with pride to its community high school, middle school and elementary school. Carolina Forest Elementary School opened in 1996, with the middle and high schools opening on the same campus two years later. Waccamaw Elementary School and Palmetto Elementary School were later added to the Carolina Forest attendance area, a testament to the growth of this popular area.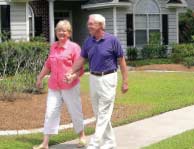 In fact, it hasn't taken long for the high school to outgrow its home. The high school has grown from 575 students in its first year to 1,362 in 2003. So the Horry County Board of Education has decided to push the size of the school to 2,000 students, pending approval of sales-tax-based building bonds. The middle school will be replaced on land already set aside for up to nine schools, with the high school taking over the entire upper-grades building.
But Carolina Forest is more than outstanding schools. Located just 10 miles from beautiful South Carolina beaches, this community boasts shopping, banks, churches, a U.S. Post Office, public golf course, a new Horry County Fire Station, and much more, all surrounded by the natural beauty that has been so diligently preserved.
Allen Moore and others at International Paper Company Realty nurtured the community master plan for more than 30 years before construction actually began. This area is "not a subdivision, but a township," says the bulk marketing manager, Sumter L. Langston of Leonard Call & Associates. And Langston believes that before the Carolina Forest will be "bulked out" before the end of 2004.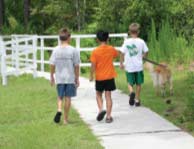 Until the 1990s, Carolina Forest was the exclusive home of bears, snakes, deer, Venus flytraps and Carolina bays and waterways. Just over a decade ago, IP Realty began selling blocks of land to developers and builders, a move that resulted in a mixture of home styles - something for just about everyone. But it remains, above all, a community where hundreds of acres of parks crisscrossed with hiking trails and the preservation of the environment continue paramount to the lifestyle.
By and large, the individual neighborhoods in Carolina Forest are designed for specific financial needs, family sizes and appropriate geography and landscaping. Each builder/developer has its own sales office and model on-site, but some real estate firms have set up businesses that advertise sales in more than one - and maybe several - Carolina Forest neighborhoods.
For those who love golf, you're in luck at Carolina Forest. Man O' War Golf Club plays over, above, through and around an attractive 100-acre lake. The lake features many islands, finger lagoons, inlets and tributaries, all lending to the challenge of the course. From the clubhouse, which is built on pilings over the water, there are pleasant views directly across the lake to The Wizard, one of Man O' War's sister courses. The third course in the Carolina Forest trio is The Witch. World-renowned architect, Dan Maples, designed all three courses.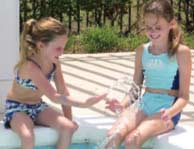 For families that crave convenience, Carolina Forest fits the bill. At the south end of the community, commercial areas are already in up and running to support the growing population. At the north end is a retail center called Towne Centre. Carolina Forest may even build its own hospital to make it more self-contained.
In other words, a new city, albeit, an unincorporated one, has been created, and it is well on the way to taking its place among other carefully planned communities like Columbia, MD.
Here's how one real estate agent sees this area:
"I live in SpringLake with my husband, Daryll, and two daughters, Courtney and Alexis, along with two cats, three finches and a bearded lizard. My girls love nature - fishing in the pond, feeding the white Peking ducks.
I just finished my two-mile run. It is wonderful to have sidewalks to run and bike ride on. My girls love to ride their bikes to the elementary school.
The communities feel like the neighborhoods that I grew up in. You know your neighbors, have a monthly get together, everyone watching out for each other and their kids. I could go on and on.
I love Carolina Forest. We are close enough to the beach and attractions, yet away from it all!"

Carolina Forest Neighborhoods
WATERFORD PLANTATION
This was the first neighborhood to go on the market in the Carolina Forest community. Its homes are diverse because all are brick or stucco-sided and custom designed, sitting on half-acre to quarter-acre lots. Trails, a golf course, tennis courts, pool, sidewalks and other amenities are all in or adjacent to Waterford. About 200 of 355 sites have been sold and built upon.
SPRINGLAKE
While all 226 home sites have been sold, resales of existing homes have just begun. The area is filled with friendly people, neighbors like some of us remember growing-up. There are trails to run and nature to watch and just enjoy. Homes are built by Centex, ranging originally from $121,000 to $195,900.
PLANTATION LAKES
An arched bridge that expedites waterways and a beautified traffic circle that connects the various residences immediately identifies this area as something special. These are $300,000-plus custom homes that sit on single-family lots that feel like nature's own destiny but are close enough together to make friends.
NEIGHBORHOOD

DEVELOPER

TOTAL SITES

TOTAL SOLD

PRICE

SpringLake/cq
Centex

226

ALL

$121-195K

Belle Grove Oaks
Centex

288

67

$105-131K

B. Grove Willows
Centex

175

29

$154-179K

Covington Lakes
Pace Dev.

250

25

$40-50K

Covington East
Pace Dev.

200

0

$40-60K

Turnelle Pk/apts
Pace Dev.

144

0

$100+K

Waterfor Plantation
Hall Dev.

355

220

$190-600K

Park Point
Beazer

143

40

$150+K

Avalon I,III
Beazer

340

320

$120+K

Canterbury/apts
V. Foster

1,260

630

-

Windsor Gr/condos
Tom Roe

108

ALL

-

Walkers Woods
Nations H.

300

50 (est)

-

Plantation Lakes
-

800

275

$300+K

Palmetto
Centex

298

0

$212-258K

Low Country
Centex

386

0

$168-188K

Golf
Centex

684

0

$129-130K

Towns
Centex

248

0

$156-177K

SFA
Centex

223

0

$180-199K
AVALON I AND III
Avalon I has all but sold out, but adjacent Avalon III brings all the same amenities to this family-oriented neighborhood, with homes up to $157,400-plus for four bedrooms 1,980 square feet. Importantly, the neighborhood is the site of an 11-acre community center that includes soccer, pool, softball, basketball and a playground.
THE FARM
D.R. Horton has just begun to develop this neighborhood, which for all the country a couple could wish for, and looks like what it's called - a farm. With a silo and a residents' vegetable garden, a sales office that looks like a country store, and a miniature barn for post boxes and school bus waiting, The Farm has all the trappings of country life, not to mention nearby public school sites. Homes begin in the $130s.
SOUTHGATE
Choose from one or two stories, three or four bedrooms and up to 1,654 square feet of space in this 399-site neighborhood that offers nine different floor plans, including garages. Both a playground and a junior Olympic-sized swimming pool are offered as amenities to this D.R. Horton development near schools, churches and retail centers.
Published from a previous issue of Carolina Homes & Interiors Magazine