Myrtle Beach Neighborhoods
Near Myrtle Beach
Near Charleston


Publish Your Own Magazine: View This Video

Gulfstream Cottages: Myrtle Beach, SC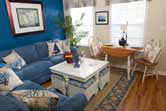 If your idea of the ideal vacation home is a nice place within walking distance of the ocean, where you can go to bed each night and wake up each morning to the soothing sound and smell of the sea, look no further than Gulfstream Cottages in Myrtle Beach, South Carolina.
Built by Flagship Construction just a block from the Atlantic, the community features island-themed HardiePlank exteriors, front porches, galvanized tin roofs and spacious interiors. When construction is complete, Gulfstream Cottages will consist of 51 homes.
"Gulfstream Cottages offers privacy, is close to the ocean and features superior construction," said Tonja Morton, sales agent for Realty Works. "Our first phase, which began in July 2010, is completed and we are currently in phase two. We expect our third phase to be finished by the end of July 2012."
The homes at Gulfstream Cottages are primary residences as well as vacation homes, which is the option Ken and Rosy Griffith of Simpsonville, South Carolina, chose – for now.
"We purchased our home as a vacation home, but we like it so much that we anticipate it will become our retirement home in a few years. We can't wait," Rosy commented.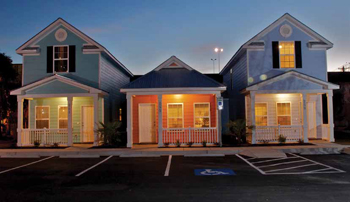 Flagship Construction, founded in 1999, has built communities in several areas of South Carolina, including North Myrtle Beach, Myrtle Beach, Conway and Murrells Inlet. The company's philosophy is to build quality single family homes in attractive locations. Since Flagship is locally owned and operated, its employees have been able to develop relationships with their clients and subcontractors.
"Flagship Construction is an independent builder, and it stands behind its product. Its homes are built so owners can live practically maintenance free," said Morton.
The owners of Flagship Construction are Hal Dixon, Stan Parker and Dave Runyon. They take their responsibility to build longlasting homes seriously. The tin roofs that adorn homes at Gulfstream Cottages come with a 50-year warranty, while the HardiePlank exterior has proven to be the most durable material for a beach home. Window and door frames are wrapped in vinyl so there is no exposed wood.
"It's great living here, and the size of our house for the price we paid was better than we thought we'd get. We looked for six months prior to learning about Gulfstream Cottages. We never looked at another property again," said Ken Griffith. "I just can't say enough about Flagship Construction and our new home. The guys there are just great."
Four floor plans, one or two story and two or three bedrooms, are available at Gulfstream Cottages: the 828-squarefoot Wahoo; the 978-square-foot Marlin; the 1,195-square-foot Dolphin; and the 1,363-square-foot Sailfish. Lush landscaping is included, and there's a community pool. Prices start at $149,000.