Scentsy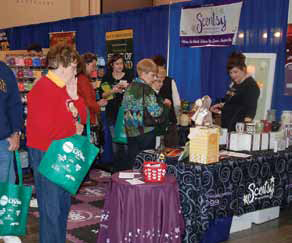 Aromas can take you places. Your sense of smell can conjure up childhood nostalgia or romantic memories of your honeymoon - and it can change your mood for the better. That's one reason Scentsy candles are quickly gaining popularity. Their delicate smells and unique safety features have created a nationwide sensation.
"Scentsy has grown and will continue to grow tremendously and I hope to grow with it," said Stephanie Adams, a Scentsy director in Myrtle Beach, South Carolina. She currently has 45 consultants in the Carolinas and Hawaii.
"I walked past a booth at a Myrtle Beach Christmas show a year ago when I smelled the best smell ever. So I turned around and was introduced to this great product," Stephanie recalled. "Nursing is my first passion, but Scentsy definitely caught my attention and became another, very important part of my life. It turned out to be a great way for me and my family to work together, make money and have more control over our lives."
Scentsy was launched in 2003 with the idea of aromatic candles inside decorative warmers, with the wax melted by the heat of a light bulb rather than with a traditional wick and flame.
"The wax is made of a food-based paraffin wax," Stephanie explained. "The light bulbs warm the wax and give off a scent. It is warm to the touch but it doesn't burn."
Stephanie, a veteran nurse of 18 years and mother of three young children, did without the calming effect of traditional candles for safety reasons.
"All of my children are under 6, so having a lit candle is not an option," she said. "Scentsy products are safe for children and pets in many ways because there isn't an open flame. Also, any spills clean up easily."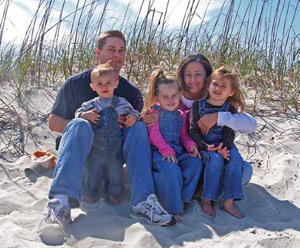 Scentsy has independent consultants who will come to your home and introduce the many products available. The company also gives back to the community by supporting various causes.
"Every year Scentsy chooses a charity that will benefit from certain sales. They have donated to breast cancer research, autism, the Fallen Soldiers Fund and more," Stephanie pointed out.
In 2009, Scentsy won the Rising Star Award from the Direct Selling Association, a national trade association of the leading firms that manufacture and distribute goods and services sold directly to consumers. Approximately 200 companies are members of the association.
Scentsy offers products for every décor, including sports, classic, military and seasonal. There also are many scents from which to choose, of course, but Stephanie recommends Black Raspberry Vanilla Scentsy Bar, Cranberry Mango Scentsy Bar and Mulberry Bush Scentsy Bar.
"Everyone that I know who has tried these products loves them, both men and women," Stephanie said.
Visit www.stephanieadams72.scentsy.us for the full inventory of Scentsy warmers and more than 80 fragrances, or call Stephanie Adams directly at (843) 240-9696.