Ocean Breeze Awnings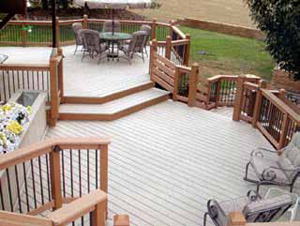 Customers who have an issue with work done by Ocean Breeze Awnings know exactly who to call: Ocean Breeze Awnings. Located in Surfside Beach, South Carolina, the company has been building sunrooms, screen rooms, decks and patios and handling a wide range of other remodeling projects for customers in Horry and Georgetown Counties in South Carolina and Brunswick County in North Carolina since 1987. OBC uses very few subcontractors, preferring instead to let their own highly-trained and highly-qualified employees do the work.
"This keeps the profit margins down, but it gives us more control over the final product," Dr. David W. Powers, the company's chief operating officer, commented. "If a customer has a problem, they know who to call. They don't have to go through 10 other people."
Ocean Breeze Awnings was founded nearly a quarter of a century ago by Emmett Russell and David R. Powers, who became sole owner of the company in 1994. Today, Dr. David W. Powers, who earned his doctorate in Theology at Southern Indiana Baptist College, runs the business, while the elder Powers spends his days taking care of the remodeling needs of their many customers.
"Dad owns the business, but he would rather be out working," the younger Powers explained.
He pointed out that with the economy struggling, both in South Carolina and nationwide, many people are choosing to increase the size of their current home rather than buy a new one. As a result, much of Ocean Breeze's work recently has been in adding sunrooms, a job that usually takes about a week.
"People want to stay in the house they have and make it a little nicer. When the economy was better, they would buy bigger and bigger homes. Now they are staying in their house and making it a little more comfortable and a little bigger," he said.
Dr. Powers explained that the company installs several different types of windows in sunrooms, depending on the view, comfort and privacy the customer wants. For example, impact-resistant windows are a good choice if possible hurricanes are an issue, and they also provide better security, do a good job of keeping out the heat and cold and reduce noise from the outside. Double-pane insulated glass is costefficient, while acrylic windows have many of the same qualities as glass but are less likely to be broken by the force of, say, a misplayed golf ball. Vinyl windows, on the other hand, are perfect for patios and porches.
In addition to sunrooms, screen rooms, decks and patios, Ocean Breeze Awnings builds carports and installs gutters and solar screens, which give a porch privacy, shade and protection from the wind.
Ocean Breeze Awnings' efforts have not gone unnoticed, in the construction industry and in the business world. In 2011, the company won its fourth U.S. Chamber of Commerce Blue Ribbon for Small Business Award. Dr. Powers, meanwhile, was cited as a top Young Leader in the Industry by Professional Remodeler magazine in 2009. Ocean Breeze also has been given Best Outdoor Project honors by the Horry-Georgetown Homebuilders Association and has been nominated for Top Dog Awards in categories including Best Logo, Best Website and Best Print Ad. In addition, the company has been nominated for two ICE Awards for customer service by the Myrtle Beach Chamber of Commerce and for Small Business of the Year by the U.S. Chamber of Commerce.
For more information about the products and services offered by Ocean Breeze Awnings, call (843) 238-4798 or visit www.oceanbreezeawnings.com.