BioSweep: Southeast
Mike Jager and his dad have been working for area automobile dealerships for 20 years, making used cars look like new by cleaning carpet, restoring leather and shining wheels. The one problem they never really solved was that they found it difficult to eliminate odors, especially the foul smell that permeates a vehicle owned or used by a smoker.
When they finally hurdled that elusive challenge, their success spawned an entirely new business enterprise. As BioSweep Southeast, the father-and-son team now uses innovative technology to rid single-family homes, apartment buildings, warehouses and office buildings of mold and other harmful pollutants.
"We never found anything to help with odor removal," Jager explained. "All we could do was mask it." The machinery the company uses today does much more than temporarily cover up bad smells and moderate the adverse effects of mold, a nasty fungus that breeds in damp areas such as bathrooms, basements and attics and can be hazardous to the health and well-being of people who live or work in buildings where it thrives. "We bought the BioSweep franchise for the equipment's odor-removal properties," Jager explained. "We didn't realize at the time that it does so much more. It breaks down mold spores. They're not just dead; they're gone."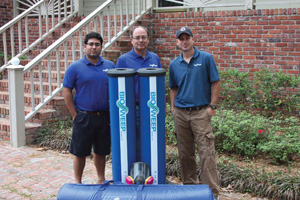 The cylinder-shaped equipment, manufactured by Phocatox Technologies and standing about 5 feet tall, releases hydrogen peroxide gas that penetrates walls, carpet, duct work and fabric, seeking out and destroying mold in every crevice of a home or office. The gas dissipates once the job is done, without leaving a residual odor behind.
"The home has to air out for only about an hour," Jager said. "Our customers love that. We don't have to spray something that smells fruity to cover up the smell."
Jager said each job begins with an assessment of the situation. On occasion, if mold is growing inside the walls, sheetrock will have to be removed and mold treated before the machinery goes to work. According to Jager, he can complete an odor-removal project in 12 hours, while an average home can go from moldy to mold-free in 24 to 48 hours. However, even if demolition and construction work is required, the entire project probably will take only around three days to a week, depending on the size of the house, about half the time for mold removal by traditional means. Traditional costs also are much higher.
"Everyone else is charging outrageous prices because it takes them so long to do the job," Jager said. "After they spray to kill the mold, they have to run air scrubbers to get rid of the mold spores in the air. It takes a long time to recirculate all the air in the house. We're the least expensive and the fastest, and we guarantee our results."
Jager's guarantee is based on tests carried out after the job is completed. He sends samples to a third-party laboratory and forwards the results to his customers.
"It's not just us saying we're the best," he pointed out. "We have to prove it on every job."
Jager, whose company has the exclusive rights to use the Phocatox equipment along the Southeast Coast, from Myrtle Beach south to Savannah, compares a mold-removal job to a science project. He said before using his machinery, he must make sure the conditions inside the house are ideal for maximum efficiency. For example, the humidity must be at a certain level and the home must be airtight.
He added that the process does not involve harsh chemicals and is, in fact, considered to be green technology, causing no harm to the environment.
"It's the first technology that has the ability to kill something as harsh as mold but is still completely green," Jager pointed out.
For more information about BioSweep Southeast, call (843) 327-0053 or visit www.biosweepse.com.